The Happiest Baby on the Block: My Change Nation Interview with Dr. Harvey Karp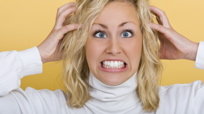 You can calm even a colicky baby in minutes or even seconds, provided you use the right technique. That's according to renowned pediatrician and infant expert, Dr. Harvey Karp, creator of the best-selling books and DVDs, The Happiest Baby on the Block and The Happiest Toddler on the Block. "Babies are born with a calming reflex—with an off switch for crying and an on switch for sleep," suggests Karp. "You [just have to] learn how to trigger this reflex."

Karp, also known as "The Baby Whisperer," offers five S's for triggering a baby"s calming reflex—swaddling, shushing, side or stomach position, swinging or sucking. Every child is a bit different in terms of what he or she likes, but when you get it right, it works again and again.

"It's no different than a knee reflex," says Karp. "If you hit the knee in the right place, the foot goes out a hundred times in a row."

You may click here to listen to the rest of my Change Nation interview with Dr. Harvey Karp.
Posted: 9/11/09