Infinite Possibilities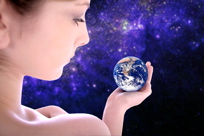 For years, I have been a big fan of Mike Dooley's "Notes from the Universe" emails—daily spiritual, inspirational and empowering reminders of the power you have over your life. Now, I am pleased to offer the lead endorsement for this best-selling author's new book, Infinite Possibilities: The Art of Living Your Dreams, which launches today!

Prepare to be challenged and excited with this unique guide to living the life of your dreams—purposefully, lovingly, brilliantly. With recognizable insight, light-hearted wit, and striking sincerity, Dooley explains that life, itself, is the ultimate adventure—filled with unending opportunities that day-by-day lead us to rediscover how powerful we are, how much we deserve, and why we're here.

During September, named the "Month of Infinite Possibilities," all book purchasers can enter the "Infinite Possibilities Celebration Sweepstakes," with a chance to win several "dream" prizes, including a trip for two to Egypt, a Tahiti Cruise for two, a week in Hawaii, a spa getaway, a year of chocolate and lots more! Go here for details.
Posted: 9/8/09