Your Dream Clock Is Ticking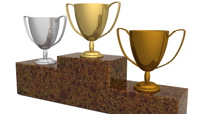 If you really want to make your dreams come true, stop waiting for the right time and pursue them now. "You will never feel safe enough or ready enough to do what you want," suggests Julia Stoel-Legro (LL.M), founder and CEO of YES!Works, a company that offers inspirational coaching and products. In reality, the "perfect" time may never arrive.

It all starts with making the decision to move forward. "Instead of looking back, plan ahead how you would like things to be," advises Stoel-Legro. "Take small, concrete and challenging steps towards your dream life…get organized, schedule weekly to-do's in your agenda, read up on role-models…be proactive!"

What dream have you always wanted to pursue? Create a detailed vision in your mind or on paper and then ask yourself, what's the very first thing I need to do to make it happen? Do it today!

For more inspiration and expert advice on pursuing your dreams, click here.
Posted: 9/6/09