Manifest the Love of Your Life: My Change Nation Interview With Arielle Ford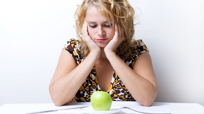 If you're hoping to attract your soul mate, one of the most important things you can do is to live as if he or she is already in your life. That's according to Arielle Ford, author of The Soul Mate Secret: Manifest the Love of Your Life With the Law of Attraction. "You need to believe in every cell of your body that this person is coming to you," says Ford.

She tells the story of a famous actress—who didn't wish to be named—who would set the dining room table for two every night, including candles and wine glasses, as if he was already there! Not too much later, she met him, and they're happily married today.

Ford says a big part of the attraction process is readiness. She suggests asking yourself, "Is your house as beautiful, as welcoming, as you would like it to be if you knew they were going to knock on the door tomorrow?" Then ask the same about your appearance. "It's a matter of preparation," notes Ford.

Listen to the rest of my Change Nation interview with Arielle Ford here.
Please feel free to forward this email to any of your friends you think may need its information right now.
Posted: 9/4/09