Money, Meaning and a Little Motivation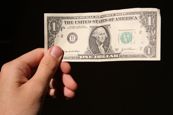 In the midst of the current economic crisis, most people just want to feel safe again. Here are some simple things you can do to feel more in control, regardless of your financial situation:

- Take a look at your beliefs and emotions around money. Ask yourself, "where have I seen this before? Was one or both of my parents fearful, worried or constantly in debt?" You don't have to be loyal to these beliefs. Commit to making a fresh start.

- Get organized. Know where your accounts, credit-card statements, insurance documents, will, etc. are. Sometimes it's not the lack of money that makes us feel overwhelmed, but the level of uncertainty or messiness in these areas.

- Ask yourself, if I had to downsize my life radically, how would I do it? Would I move? Would I cook more or grow my own food? Just knowing the answer will let you live differently, with a higher level of consciousness.

Read all 10 of my tips on this topic here.
Posted: 7/23/09