Here's Your Chance to Try Something New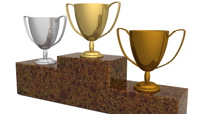 You know all those things that you once wanted to try, that you've forgotten or put aside? You're not too old to try and it's never too late. Drag all those wishes and want-tos back into your awareness, and amazing things will start to happen.

We tend to get what we focus on. When you think about learning to cook, somehow you hear about great cooking lessons. If you focus on writing a book, suddenly your friend's cousin's uncle knows a publisher. Life has a way of helping you get closer to what you want.

Today, think about something you've always wanted to try, like flying a plane or visiting an ashram, and take three action steps towards it—make a call, search the web, talk to a friend who's done it, and so on. Make a conscious effort to try something new, and the universe will start to work right along with you.

To read my entire blog post on this topic, click here.
Posted: 6/22/09