Appreciate Now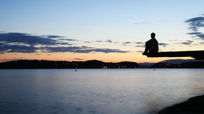 In rural Maine, you literally can't get they-ah from hee-yah, at least, not without going the very long way around. It makes it easy for people to stay right where they are.

The rest of us could stand to stay put ourselves once in a while—if not physically, then at least mentally. Our busy little brains are so busy remembering pasts and imagining futures, we rarely acknowledge what's right here in front of us.

Where are you right now? Look around and take in the sights, smells and sounds of wherever you're reading this. Try to appreciate this exact moment in your journey—your loved ones, your blessings and very simply, your being. Set aside some time to focus on the here and now each day, noticing the feeling of peace that flows through you as you do. Because really, now is all there is.

What does your now look like?
Posted: 1/14/09