The Shot Read Round the World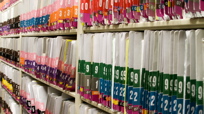 Of course she's had all her vaccinations. What do you mean she can't stay at school? The old pediatrician was supposed to forward them to the new one, who faxed them to—

Huh? Do I have a copy handy? Well, er…they might be in a drawer or shoebox or something...

You don't think twice about paying bills with a few quick clicks. Why use an archaic storage system like a folder for medical files? Storing them in those scary, over-stuffed desk files is like—well, not having them at all.

For easy access to medical information, set up online personal health records (PHR) for you and your family members. Add vital medical information like vaccinations, allergies, blood tests and prescriptions and with your permission, a doctor can access it at a moment's notice.

Online PHRs are available from Google and Web MD ; some insurance companies offer PHRs as well. By keeping records accessible and up to date, you're making it easier for you and your family to be healthy or deal with an emergency situation.
Have you used a PHR? Tell us about your experience.
Posted: 9/9/08