Better Not Late Than Clever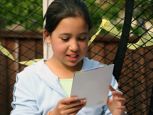 Let's face it. Belated birthday cards are lame. The recipient is going to think you're a slacker, regardless of how cute the card is.

Unless the card contains a large sum of money—then it can arrive whenever it darn well pleases.

But seriously, if you're the kind of person who always sends belated cards (or, gasp, never sends a card at all), it's never too late to change your ways. The next time you're near a card section with time to spare—say, while waiting for your table at a mall restaurant—stock up. Generic cards are probably best, but if you have a list of special occasions with you and can select cards individually, even better. At home, keep the cards in a safe place, away from greasy fingers, and label any you selected individually with sticky notes.

You're now a signature, stamp and address away from punctuality. Extra points if you rush home and put special dates into your calendar so that you can see when they actually need to be sent! So why not change your late-mailing habit today? Just do it. Having your friends and family know they were on your mind will make taking the extra step worthwhile—because sending a card will make a lasting impact on your relationship in a way that a Facebook message or email can't quite do.
Posted: 9/8/08