Beauty is in the Belly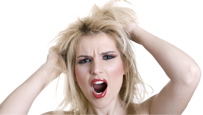 If you use salon products, without a doubt, your hair is as shiny, smooth and full-bodied as the tresses of those TV hair models.

Not. (What do you think they use, wigs or computer animation?)

Despite what those clever marketing folks would have you believe, hair products aren't the only things that determine your hair's appearance. In fact, many make no difference at all. The factor that does play a role in your hair's health is diet. Just like the rest of your body, those locks need their vitamins. So if you want to change your look, try starting with a change in your diet!

Here's good advice for guys and girls who want to see their hair at its best: To minimize split ends and keep your hair healthy and shiny, experts recommend multivitamins, Vitamin B and a fish oil supplement. That said, definitely talk to your doctor before introducing extra Vitamin B, D or other supplements into your diet. In the case of vitamins, more is not always better.

Even better, skip the pills and try to get enough vitamins in what you eat. Yup, just another excuse for living healthier.
Posted: 9/7/08