It's All About Me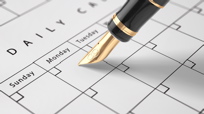 A little narcissism isn't the worst thing in the world. Who else is going to look out for your health, happiness and well-being in this world if not you?

Besides your mother, that is.

In the spirit of total selfishness, create your very own holiday to celebrate—you guessed it—you. There's nothing else going on holiday-wise until Halloween, so why not? Call it "Me Day," write it on all your calendars in big, bold letters and think of some activities that truly enable your self-absorption.

Get a massage or a new hair cut, take a personal day from work to visit an exhibit, read in the park, splurge on that bag you've been eyeing for weeks or sit and be a couch potato all day (with snacks and sans guilt). You deserve a treat once in a while. Call it a "mental health day." And don't forget to pencil Me Day into 2009.

Do you ever take time just for you? Tell us about it!
Posted: 9/17/08