This Season's Must-Have Arm Accessory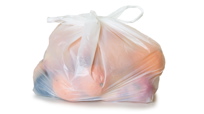 You know plastic bags are out, but you keep forgetting your tote! Follow these tips and never be bagless again.

Talk to anyone who knows anything about shopping style and they'll tell you, this season, it's all about canvas. Wearing plastic for groceries, health and beauty aids, home décor or anything else you can buy at your favorite shopping spot is so—well, out of style.

Surely you've noticed the selection of reusable bags everywhere. The next time you see them, stock up—they're only about a buck each. Keep at least one folded in your purse or briefcase for spontaneous purchases or for when you need a hand carrying extra items. They also make great "snack bags" for long family car trips. If you want something more stylish, of course, lots of options are available (Anya Hindmarch's "I'm Not A Plastic Bag" canvas tote last year taught us nothing if that) so no excuses, please!

The hardest part is actually remembering to use them, so avoid stashing your tote out of sight (i.e., in the back of your vehicle under the camping chairs). Better to keep bags right up close and personal on the passenger seat next to you.

Tell us—are you going green in style? Are you ditching plastic bags completely? If not, what's keeping you from making that change?
Posted: 9/12/08