One World United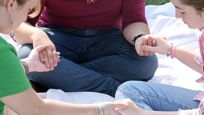 Ever wonder what would happen if everyone in the world joined hands and said a prayer for peace at exactly the same time? A psychedelic display of lights and color perhaps? We can only imagine, but it would have to generate some seriously positive energy!

The closest we may ever come to this type of worldwide prayer is the Earthdance Global Peace Festival, the largest global synchronized dance event in the world. This year, participants will unite in their annual Prayer for Peace at 4PM Pacific Daylight time today, September 13. In an effort to promote peace and humanitarianism, Earthdance events ranging from living room gatherings to huge concerts will be going on throughout 60 countries.

Consider hosting your own impromptu gathering, placing an Earthdance banner on your web site or simply joining in the prayer from wherever you are. For more information or to download the Prayer for Peace, visit the web site.

Do you think spiritual events like this are beneficial? Will you participate?
Posted: 9/13/08