What's In It for Me?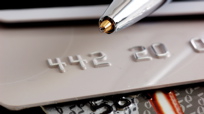 You shop around for the best car prices, mortgage rates and vacation packages. Don't just settle for any old credit card. It's tempting to stick with what you have or go for the pre-approved variety, but then you might be missing out on some fabulous rate or rewards program. When you are reducing debt (or building better credit) every reward point counts!

Credit card companies make money every time you use their plastic. Ask yourself, what's in it for me? Money magazine recommends looking for a card with no annual fee, an APR of 11% or less on purchases and forgiving penalty terms.

Read the fine print that came with your current cards. (If it's buried in a paper pile somewhere, you can always pull it up online.) Compare it to other available offers. Are you getting the most bang for your buck, in terms of rewards, cash back or miles? How's the APR (annual percentage rate)?
We've mentioned it before, but reducing your debt is one of the best changes you'll ever make—it frees up so many other areas of your life. If you find you must use credit, become an informed consumer and get the best deal you can. It really does make a difference!
Posted: 9/10/08