Start Clowning Around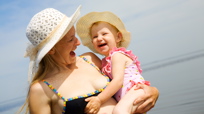 Did you know the first week of August is National Clown Week? Well, yeah! It is! Celebrate with a little clowning around. Not that you have to dress like Bozo and join the circus (although why not, if that's what you've secretly dreamt of doing?), but you can get out there and share some laughs. Tell a few jokes, play some mild pranks or wear some outrageously oversized shoes. Who doesn't love to laugh?

If you're not the joking type, get together with friends or family and reminisce about funny things from your past. Most stories that begin with "Remember when…" are hilarious, even if they weren't at the time. If you can't think of anything else, just start making fun of yourself. That always gets a good laugh.

Giggles are great medicine—a good chuckle can help strengthen your immune system, lower blood pressure and improve heart health. Try and laugh a little each day. You'll be pleasantly surprised at how it changes your outlook!
Posted: 8/3/08