Yoga: The Anti-Stress Drug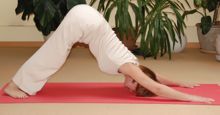 If your emotions are all bottled up and you need to let them out, look no further than your local yoga studio. Loosen those hips with just the right postures and you may find yourself reaching for the tissue box. Health experts suggest that certain yoga poses can be your ticket to emotional freedom.

Yoga is about creating balance in the body, enhancing the body-mind-spirit connection. For this reason, yoga has been found to help victims of sexual abuse, domestic violence, chronic pain, depression, eating disorders, post-traumatic stress disorder and more. In conjunction with other treatments, the practice of yoga, meaning "union" in Sanskrit, helps heal the sense of disconnect from the body often experienced by trauma victims.

Even if you aren't dealing with anything major, it never hurts to relieve stress and clear your mind. And, it's well known that many people feel that yoga helps them connect to their spiritual side. Today, try 15-20 minutes of yoga and see if it helps relieve those negative thoughts and emotions weighing you down.
Posted: 8/28/08