New Life for Running Shoes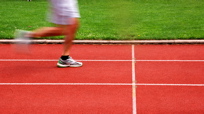 Your new running shoes feel like little pillows strapped to your feet. They are sure to help you get in shape and you will keep them forever and ever—until you start to get shin splints or excruciating knee pain.

Running shoes should be replaced every 300-400 miles, depending on your weight and where you run. For example, an average build runner that jogs three miles on roads three times a week will need new shoes about every 9 months.

Instead of dumping the old ones in a landfill somewhere, put your workout shoes back to work at Nike's Reuse-A-Shoe program—not that anyone would want to wear them in that stinky state. Nike takes athletic shoes of all brands and recycles them into sport courts, tracks, playgrounds and new products.

To find a drop-off location near you, go to Nike's Reuse-A-Shoe Drop-Off Locations. If you have more than 10 pairs, call ahead. And no cleats or wet shoes, please. Ew.
Posted: 8/24/08