Ducks in a Row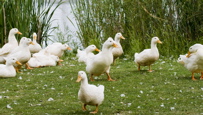 Social security cards are in the bottom desk drawer, passwords are written on the underside of the dining room table and birth certificates are in a bag on the top shelf of—wait, are the birth certificates in the desk drawer or the closet?
What if something unexpected happens, like an emergency or a natural disaster? Imagine scrambling to find what you need in the midst of utter chaos—it will put your worst "I overslept and can't find my keys" morning to shame.

To prepare for life's OMG moments, select a central location and organize all of your important documents and information, and tell at least one close family member or friend where everything is and what to do with it. If it's in a safe, make an extra key. While you're at it, create a document on your computer that has all the passwords to any accounts that someone close to you might need, and let them know how to access it.

For preparedness bonus points, create a phone list or phone tree. Make sure those closest to you (parent, spouse, roommate) know how to reach the friends and co-workers who would need to be in-the-know first in case of an emergency. Print it out and keep it with the aforementioned items, and send a backup copy via email.

After all, you never know when someone else will have to line up your ducks.
Posted: 8/23/08