Use Cash, Not Plastic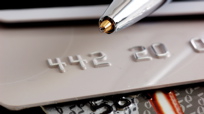 You really wanted that blasted HDTV. Talk about guilt. You can't even enjoy it. (Okay, maybe just a little...especially once football season starts.) That swindling salesman—you must have told him fifteen times about all your credit card bills. So why did you charge it? Oh, why, oh why?

Now hold on. Before you let emotions rule, look at the facts. You were probably swayed by paying zero interest on the TV, but the credit card companies are slapping on finance charges like nobody's business. So, of course, you're spending way more for that television than you ever wanted to in the first place.

If you want to get out of debt, it's going to be a long road if you keep buying now and paying later. Take a look at the things you want and ask yourself if they're really worth twice the sticker price. Figure out if it's worth saving those pennies for things you really need, as well as those that will ultimately bring more joy. Think about this—will you get more out of your HDTV, or creating a retirement fund so you can do all the things your heart desires?
Posted: 8/2/08