Do It At Work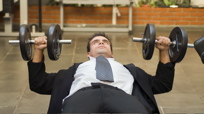 Drop and give me 20. Now let's see some squats holding onto that chair. Okay, down on the floor. What do you mean your cubicle's not big enough? Bend your knees and wedge your feet under that desk! Squeeze those abs for 30 crunches. C'mon, squeeze! And when you're done, it's time for lunch—speedwalk to the nearest staircase and run up and down twice before you go.

Who needs a sweaty, crowded gym when you have an office that can help you get in shape?

If you think you're too busy working to work out, think again. There's always a way. Start by looking at your desk as an opportunity instead of an excuse right now. Squeeze some exercises or stretches in at the office during a coffee break or right before lunch. Swap out your chair for a pilates ball (which will strengthen your core and improve posture.) As long as it doesn't interfere with your work, no one will mind.

You may even get a few laughs… until you reveal your abs of steel. Don't be surprised if your co-workers follow suit!
Posted: 7/23/08