Can't Get No...Job Satisfaction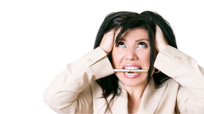 Okay, show of hands, who loves their job—as in, you jump out of bed in the morning and can't wait to get to work?

[Crickets.]

More likely, you're among the large percentage of Americans that, according to a recent Gallup Poll, are only somewhat satisfied with their current jobs. Somewhat? Is that good enough? Would you stay in a relationship that was "somewhat" satisfying? Or work on a college degree that you "kind of enjoyed?"

Don't settle. If you're not sure you're on the right path, do something about it and make your dream job a reality. Make a list of all the things you love and don't love at your current job. It might inspire you to ask for changes. If your "don't love" list is longer than you expected, spend some time with a career counselor taking skill assessment tests or researching other careers that interest you.

Make it your mission to find something you love to do. You spend way too much of your life working to settle for "somewhat satisfied." Agreed?
Posted: 7/22/08