Laff at Your Gaffe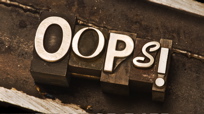 If you've just opened your mouth, only to insert your foot—again—the worst thing you can do is to try to brush it off or ignore it. What's out there is out there, but how you handle it is the difference between living a happier life and one filled with regrets.

The offended party isn't going to forget what you said or did until you do something about it. Be brave. When the dust settles, raise your hand up high and admit your blunder: "I was wrong. I shouldn't have said it. I'm a jerk." People will be much more likely to forgive you if you admit your shortcomings and acknowledge your mistakes.

While you're at it, showing off the more charming side of your personality as you're making amends never hurt. We all say and do things we shouldn't. Laugh at your faults and the rest of the world will, too. As Victor Borge, the pianist and entertainer said, "Laughter is the shortest distance between two people." Who do you need to ask for forgiveness from today? Who do you need to forgive? Go ahead and clear the air now with a laugh and a smile—you'll be glad you did.
Posted: 7/17/08