Kick Radon to the Curb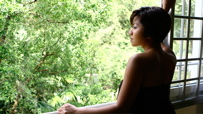 So much to worry about, so little time. Eating? Read those labels. Driving? Look out! And if you're at the beach, keep your eyes peeled for sharks, jellyfish, riptides and broken shells. Then there are the hazards you can't see at all.

Like radon.

This colorless, odorless, tasteless and radioactive gas is the number one cause of lung cancer among non-smokers. It comes up from the ground through foundation cracks and other openings and becomes dangerous in concentrated levels inside the home. Awesome, right? Especially when you've been working so hard at creating a clean, green home...

Don't panic. Your home inspection probably included a radon test. If not, or if it's been a while, you may want to purchase an inexpensive test kit at a store like Home Depot or Lowe's, or through an online retailer. And if you do find high levels of this gas, you can always have a radon-reduction system put in place.

Meanwhile, why not get some fresh air in your home today? If it's not oppressively hot, turn off the A/C and open the windows. Better yet, get out of the house altogether! Breathe deeply. Feel the energy that fresh air provides. Then come on home and deal with the radon thing. You'll be glad you did!
Posted: 7/15/08