Listen While You Work(Out)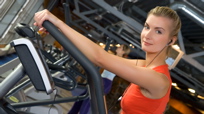 You're dying to read this great book. There's just not enough time in the day. It's always work, work, work—when will you have time for you? Oh, right, at the gym. But you really just want to stay home on the couch and curl up with that great novel...

Honey, this is the age of multi-tasking. If you want to dive into that great new book, do it! Let someone else do the reading and listen while you workout.

These days, just about any title you can think of is available in audio format through sites like Audible.com, iTunes or Amazon, to name a few. Load a title onto your iPod or other MP3 player, strap it on your arm (or use a docking station or car adapter), and listen while you jog, spin, walk or use the elliptical.

We'll bet you'll get so into that mellifluous voice reading in your ear that you'll go an extra mile before you know it! Challenge yourself to keep up the pace for "just one more chapter" (but don't overdo it.) Working your mind and your body at the same time—now that's a great way to get in shape!
Posted: 7/10/08