Get Rich on PB&J.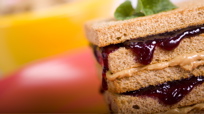 Want more money in your pocket? Get out of the school cafeteria mentality. Gone are the days when you could get a (supposedly) nutritious, well-balanced lunch for less than a buck. You're probably handing over upwards of five dollars a day, maybe ten, depending on where you eat. Over the course of a year, you're looking at somewhere around $1,200, minimum—not including morning muffins.

And in case you hadn't noticed, your parents aren't buying.

Start buying some extra groceries and make your own lunch. If you have access to a microwave, consider reheats from the night before—they're essentially free. You'll have to get up a few minutes earlier, but hey, now you know how your parents felt. As an extra incentive, put $5 in a savings jar every time you bring lunch from home.

$10 if it's peanut butter and jelly.
Posted: 6/22/08