Saying Yes to Love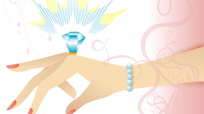 Now, we don't know about you, but we've always found the holidays to be a bit cringe-worthy when it comes to proposing. A diamond under the tree or on the eighth night of Hannukah is nice, we suppose. And getting down on one knee at the stroke of midnight is sweet, if uninspired.

If you're in a relationship and have just proposed (or are about to) congrats to you! You've invited a very special kind of commitment into your life. If you're uncoupled this time of year, take heart. You don't have to Grinch out every time you hear of someone else's happy ending. Think about ways to bring more love into your life in the next few days and throughout the year.

According to the venerable C.S. Lewis, there are four kinds of love—Affection, Friendship, Eros and Agape. We all understand the ins and outs of most of these loves well. Affection is what we feel for family, mostly. Friendship is perhaps the best kind of love...next to Eros, of course, which we all hope for! And Agape is Big Love—the kind reserved for you and a higher power, an unending and boundless love that takes time and practice to learn.

So, as we head into a year full of potential and possibilities for love, which "love" do you want to focus on? Is there a need for greater communication with family members; a way to show more affection for the poor and marginalized in your city or town? Think through each of your friendships and how the love there might be improved. If you are in, or hoping for, a relationship, what might you desire from eros? And lastly, will this be a year of spiritual growth for you, where you discover what it means to love and be loved wholeheartedly?

We hope the year ahead is filled with love for you. After all, what other reason is there to be here, now, together?
Posted: 12/27/08