Who Do You Think You Are?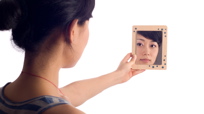 If someone stopped you on the street and asked, "Who are you?" What would you say?

I'm Pat, the accountant elf. I'm married to Taylor, also an elf, and we live in a five-bedroom, Tudor style, gingerbread house on Lollipop Lane, where we're raising three adorable elves, This, That, and The Other…

… and so on and so forth. But have we really learned anything about Pat? Most people define themselves—and their self worth—by life circumstances, such as jobs, relationships and possessions. Why? Because that's how society defines them.

If you want to know who you really are, imagine every possession and everyone you know being taken away from you. What's left behind is the real you.

What do you base your self worth on? Work? Family? Your waistline? How much positive self worth do those things really provide? Do a gut check and find out why you're letting others define you. Then make a list of who YOU think you are. It's important as you pursue relationships to know who you truly are.
Posted: 12/20/08