Stand Out in the Crowd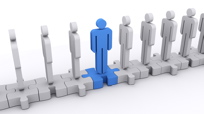 Following the crowd is a great survival skill for the average middle schooler, but you're all grown up now. Certainly, you've earned the right to march to the beat of your very own drum.

Without having to sit by yourself in the cafeteria.

Stop agreeing with everyone just to please them. You aren't being true to yourself, and you might be letting someone down, especially if he or she loves a good debate. There's no need to argue just for argument's sake, of course. Whenever you get the chance, muster up the courage to state your own opinion. You'll feel better about yourself and others will respect you more.

The same goes for making suggestions or finding new adventures. Don't be afraid to show off that creative mind of yours, alone or in a group. What's the worst that can happen—someone rejects your idea or thinks you're a little "out there?" Your relationships will improve drastically when you're being genuine. Don't you think your friends will like you better when you're being, well, you?

Besides, you need to get "out there" and make the world more interesting—quick, before we all die of boredom!
Posted: 12/15/08