Getting a Second Opinion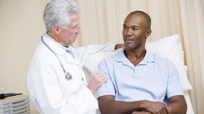 It's especially true of healthcare that life is too short for bad service. If you're dealing with a specific health diagonsis or just a GP who isn't listening to your concerns, it's probably time for a second opinion. In fact, you can get a second opinion on more than just your health!
Whether your doctor makes you feel like a hypochondriac, your stylist cuts like Edward Scissorhands or your electrician conveniently forgets the crawl space outlets—again—if you find yourself paying for bad service, that's clearly a sign: You need to break up. It may not be easy, especially if you feel like there's a loyalty issue after so many years of being with the same person. But like any bad relationship, waiting longer won't make it any easier.

Right now, make a list of all the people you pay for service and rate their performance on a scale of 1-10. If any of them scores below a 7—let's say, your plumber, for instance—start contacting friends and family to find a good replacement for them.

Don't wait until your toilet won't flush or some other crisis, or you'll go running back to those same (greasy) open arms. Admit it—you know you will. Getting better service every day means you can rest assured that you're not spending too much for what you don't need.
Posted: 12/13/08