Guess They Really WERE Wise Men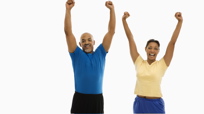 When the three wise men came bearing gifts, I bet they weren't thinking the Christ child was in need of pain relief!

In a recent study, patients with osteoarthritis of the knee had significantly less pain and better mobility after taking the Indian frankincense-enriched supplement 5-Loxin. What's more, relief kicked in after just one week for those taking the highest dose- of 250 milligrams. Beyond reducing inflammation, the supplement (a tree resin) curtailed activity of an enzyme that eats away at joint cartilage, possibly slowing progression of the condition.

While we are all for supplements (as always, check in with a doctor first, especially if you're on other meds) there are lots of ways to take care of your joints so that you can get in shape, and stay in shape. Those with osteoarthritis or other joint problems can include walking, swimming, cycling, and stretching in their exercise routine. Exercises like running or competitive sports are best avoided.

Take care of your joints each day, and they'll take care of you, too—whether you've got gifts from the wise men or not.
Posted: 12/9/08