Boo!!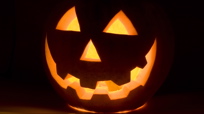 Grab your sturdiest pumpkins and get over to Millsboro, Delaware for the 23rd annual World Championship Punkin' Chunkin' Contest. It starts today and runs through November 2nd. Your mission, should you choose to accept it: To sling your pumpkin as far as possible using a homemade catapult or slingshot. Wind 'er up and let 'er rip!

What? You don't have time to go to Delaware? Hmmm...OK...how about this?

You may not know where this crazy night that kicks off a festive season comes from. Thousands of years ago, the Celts celebrated their new year on Nov. 1. The night before, they held a festival, known as Samhain, during which it was thought that spirits from the beyond could commune with the living. Flash forward to the 800's, where Pope Boniface IV decided that there really should be a church-approved holiday to mark the season...and that's how we got All Saints' Day on November 1. November 2 became All Souls' Day some years later, a day that honors the dead. (Wanna know how we got so smart? Look here.)

So whether you're trick or treating, at a party, watching scary movies or yes, even tossing a pumpkin, remember--this day and season are full of fun and merriment, but it's also a time to remember those who are no longer with us. Perhaps you'll start a new October 31st tradition for the years to come by sharing memories of loved ones with family and friends, visiting the resting place of someone you love or looking through old photo albums. You may even find a way to incorporate some of their favorite treats (or tricks!) into your festivities.

Let us know in the comments below what you did (or are doing) this Halloween...and happy haunting!
Posted: 10/31/08