Flex-ercise!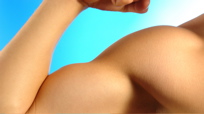 One and two and three and four and…
Keep working that change muscle and it gets stronger and stronger.

My what muscle?

You know, the will inside every one of us to keep moving forward--to survive, to adapt, to be happy and to feel good. When you face change and move through it, that's your change muscle in action. It gets stronger every time you use it.

Think about it. You prepare your body with exercise, why not your mind? Here's an exercise to help prepare you for the next big life change--divorce, new job, whatever. Try to remember the toughest changes you've ever been through and think of one in particular that pushed you to your absolute limit. How did you get through that change? What did it teach you about yourself?

You did it before, you can do it again. Believe that you can and you will! Keep on flexing that change muscle...you never know when you're going to need it.
Posted: 10/17/08