Let It Out (The Right Way)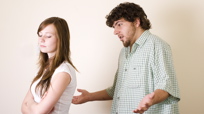 If you've got something to say that's sure to cause a blowout, don't let fear keep you silent (Spouting off isn't the best approach either.) Take some advice from happiness expert M.J. Ryan, and enter the battle armed and ready. In a recent issue of Health magazine, she lists three questions to ask yourself before a confrontation:

1. What really matters to you?
Know your intention and communicate it to the other person upfront; you'll reach an agreement that much sooner. Try writing down what you need to get off your chest before you let it out of your mouth. See what you need to stress and what is most important to you—this will help you convey what you really mean most effectively.

2. What makes your opponent tick?
The more you know about someone, the easier it is to argue in a way that will win him or her over. (Nothing sneaky, just psychology.) Before confronting the person, spend a little more time with them and see what will be the best way to get your point across. Maybe you need to have a serious talk, or should you throw in a joke here and there? Would the person better respond on their territory? Going into the arugment with this knowledge can make the other person feel more comfortable and willing to listen, instead of feeling like they are under attack.

3. What are the facts?
Don't make false assumptions. Unless you know for sure the person doesn't like your idea, you've got nothing to lose. Put yourself out there, or you'll always be left wondering. Don't try to predict how someone will react to what you say—knowing you took all the right steps before confronting them will help calm your nerves and make the situation easier for both of you.

Changing the way you work through differences with people in your life can have a profound effect on the quality of your relationships. Let us know if you put any of these techniques to work!
Posted: 8/21/08