Flower Power.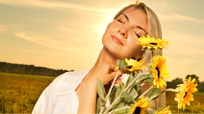 When you get the urge to buy fresh cut flowers—at the grocery store, strolling by a floral shop or driving past a roadside stand—do it. (This may be your only chance.) You aren't spoiling yourself—you're actually making an investment in your health and happiness.

A Harvard Medical School study has shown that when people have fresh cut flowers at home, they feel more compassionate toward others, experience less worry and anxiety and feel less depressed. Of course, those guys bringing flowers home after doing something wrong already knew all this…

With so many feel-good benefits, make fresh blooms a weekly habit. Or start a garden and cut your own. While you're at it, share some flowers with the people you care about to help brighten their day.

Or to make amends.
Posted: 6/13/08