News
The latest news on this change — carefully culled from the world wide web by our change agents. They do the surfing, so you don't have to!
They Walk Among Us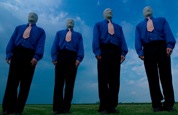 They've been popping up at high-profile events all over Great Britain: droid-looking people with creepy featureless faces and smart business attire. They sat stoically at Wimbledon, Elton John's white-tie ball and at the launch of a Harrod's sale.

"Our security team was very aware of them and monitored their behaviors. They were smartly dressed and didn't cause a problem, but we kept a close eye on them anyway," a spokeswoman from the department store told ABC News.

So just who are these creatures and what do they want from us? According to The Daily Telegraph, they're not extra terrestrials,
protesters or even fashionistas but something that many people believe to be the scariest group of all—car salesmen (dun-dun-DUHHHN!)

The British newspaper discovered a website called Facelesspeople.com with a countdown to "true character." The site
happens to be owned by Group Lotus, Plc., the British sports and racing car manufacturers who have been teasing car enthusiasts for with vague advertisements about the release of the new Lotus Eagle set to debut on the market in September. One of the official ads features the new vehicle covered with a black sheet. The countdown on the faceless people website happens to coincide with the British International Auto Show on July 23 and the Telegraph is predicting the company wants to reveal the new vehicle at that time. When asked for comment on the stunt, one of the faceless people simply stood still and continued to creep out the entire room.

So, good marketing or bad marketing? It's got our attention, but is it enough to get people to buy a new car?
Posted: 7/7/08