News
The latest news on this change — carefully culled from the world wide web by our change agents. They do the surfing, so you don't have to!
DeLorean Dream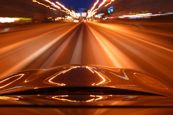 Glen Hale is hoping to impress his friends as he "McFlies" (ugh. sorry.) down the highway in his fully loaded replica of the DeLorean made famous by Michael J. Fox and Christopher Lloyd in "Back to the Future."

Hale jumped at the opportunity to own a new car that would also be a tribute to his favorite movie series when he found out that one his fellow members of an international DeLorean fan club was selling a half-built model. He spruced it up by adding a smoke machine, movie sound effects and original parts—yes, even the flux capacitor—he had imported from the Universal Studios lot. He even convinced Christopher Lloyd to sit in the front seat and has a signed certificate to prove it. There is one slight difference between Hale's vehicle and the original:

"In the film the DeLorean runs on plutonium, but we're just running on plain unleaded petrol," Hale told the Daily Mail.
It's only a matter of time, Glen! If you keep making your dreams come true we may soon have a new energy source. How much fun is that?
Posted: 8/6/08