News
The latest news on this change — carefully culled from the world wide web by our change agents. They do the surfing, so you don't have to!
Want Fries With That McMansion?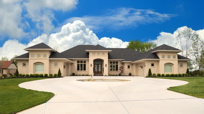 You've done it with cheeseburgers, tennis shoes and movie passes, so why not "buy one get one free" when you purchase your new home? Yep, it is indeed a buyer's market when a home dealer in one of the most expensive regions in the country is giving its customers a two for one deal.
Michael Crews Development is throwing in a $400,000 home for customers who purchase another one for $1.6 million (Ah. We KNEW there was a catch.) The free houses are nothing to scoff at, either. Many of them feature pools, Jacuzzi tubs and all new appliances. "People have been coming in saying, 'How can you do this?' Well, it's our way of dealing with current market conditions to move some inventory," says Adam Rossman of Michael Crews Development.

The developers are suggesting that buyers use the extra space as a rental, investment property or a starter house for their kids. At that price, perhaps they're the kind of people who want to use it as a giant closet for offseason storage. They're also hoping that the offer generates some buzz that will set them apart from the rest of the pack. We bet you're checking out the school districts and weather reports in Escondido already. [News 10]
Posted: 6/4/08