News
The latest news on this change — carefully culled from the world wide web by our change agents. They do the surfing, so you don't have to!
Short Sale Solution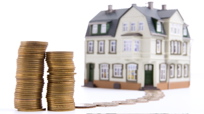 So, you're stuck between a rock and a hard place. The dream home you bought during the real estate boom has significantly decreased in value and you can't afford to make payments or find a buyer to bail you out. Before you resort to foreclosure or bankruptcy, you might want to consider what real estate professionals refer to as a "short sale" for selling your home.

These transactions occur when a bank or a lender decides to take less than the total amount due on the loan rather than deal with the burden of extra property. This type of deal would have been a rarity just a few years ago, but now short sales account for one out of five home sales in the country.

The name might imply otherwise, but there's actually nothing short about them. It can take months for the bank to approve them and the loan holder has to have proof of hardship. It can also leave a negative mark on a borrower's credit score, but we know what you're thinking, "Why not just file for foreclosure?" Allen Fishbein of the Consumer Federation of America told CBS news that "there's probably nothing worse than the impact a foreclosure would have on a borrower's credit score."

Would you consider short selling?
Posted: 6/25/08