News
The latest news on this change — carefully culled from the world wide web by our change agents. They do the surfing, so you don't have to!
Renters Buy Homes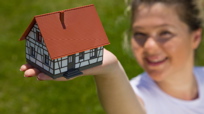 We know how hard it was for you to switch from Fruity Pebbles to Special K and trade in your motorcycle for a used mini-van for the family. But that's what life is about—change (and don't we know it!)

So now that you've knocked off a couple of minor changes in your life, it might be time to make a big one. The housing market now looks to favor the buyer, so now would be the perfect time to ditch renting and buy a new home!

Real estate agents in San Diego have been reporting a recent spike in the number of renters who have decided to purchase their first homes.

"With the foreclosure crisis, there is actually a unique opportunity for first-time buyers to purchase units that were previously out of reach," real estate agent Gabe del Rio told the San Diego Union-Tribune. "Many people who were looking at buying a condo are able to look at a single-family residence because of the immense drop in price. We can help more people because there are smaller price tags."
Are you looking to make the switch from renter to owner? Have you started your search already? Share your first-time buyer tales with us! [San Diego Union-Tribune]
Posted: 7/28/08