News
The latest news on this change — carefully culled from the world wide web by our change agents. They do the surfing, so you don't have to!
McCain McMansion for McSale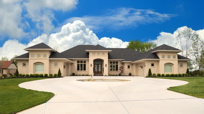 Do you want to own a piece of U.S. history? Well, the last time we checked neither the Liberty Bell nor Mount Rushmore are for sale, however, one of John McCain's former homes is.

The Republican presidential candidate's Phoenix abode is offered at $12.5 million and from the way the listing reads, it seems as though the buyer will be getting his or her money's worth. According to the Phoenix New Times, "this gracious, private residence is gated and secure on a sprawling 2.7 acre estate lot. The home features 15,000 sq. ft., 13 bedrooms, 14.5 baths and a 7 car garage. Extensively enlarged and remodeled in Old World design. This home is perfect for a private residence or corporate retreat." Yes. Or a cadre of Oompa Loompas, the Von Trapp family and the cast of Real World-ers.

If you could buy a politician's former residence, which one would you buy (and the White House is not an option)? Would you go for a log cabin in Illinois a la Abe Lincoln, or a California ranch so you could roam the same grounds as Ronald Reagan?
Posted: 10/1/08