News
The latest news on this change — carefully culled from the world wide web by our change agents. They do the surfing, so you don't have to!
Employer Assisted Housing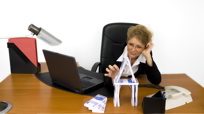 You might be squeamish about asking your parents for help buying a home, but what about asking your boss? For Edna Williams-Foreman, an employee of the University of Chicago, looking for financial help at work was a smart move and a saving grace.

Williams-Foreman is one of about 600 employees who have gone through the University's employer-assisted housing (EAH) program. In addition to credit and financial counseling, she also received a $7,500 forgivable loan towards the down payment of her three-bedroom condominium.

"The challenges we face in the housing market right now remind us that the public sector can't fix this alone, and private sector dollars now more than ever are needed," Robin Snyderman, an expert on EAH programs, tells the Christian Science Monitor. "With the tightening credit market, the down-payment assistance that employers provide goes even further to help people buy a home who wouldn't be able to otherwise."

And new homeowners aren't the only ones who win. On average, companies who offer forgivable loans and counseling report better performance and greater company loyalty. With 70 different employers participating, Illinois leads the pack in EAH programs, but other states like Connecticut and Wisconsin have similar programs as well. Does your company offer an EAH program? Perhaps you can convince them that it's a brilliant idea and you can be the first to sign up! We're going to go ask about it now...
Posted: 7/15/08