News
The latest news on this change — carefully culled from the world wide web by our change agents. They do the surfing, so you don't have to!
Down by the Tracks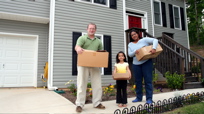 It used to be that buying a home near the train tracks meant that you had gambled away all of your savings in Reno and you were destined live among neighbors like Peg and Al Bundy. However, as gas prices rise, so does the desirability of property located within walking or short driving distance of train stations, airports and park and ride lots.

New home buyers like Massachusetts resident Derek Benoit are giving up homes in suburbs and exurbs to move closer to their jobs or to public transportation. "I love, love, love my place, so it's bittersweet," Benoit, who had been paying $500 a month to commute to Boston, told the Boston Globe.

Benoit isn't the only one taking his commute into consideration. According to a recent survey by Coldwell Banker, 81% of agents said they were seeing an increase of interest from clients who were seeking urban living due to high gas prices. Around the country public transportation use is up and new posh condo developments have been popping up near transportation hubs. Will you be thinking about your commute when you buy your new home?
Posted: 6/23/08