News
The latest news on this change — carefully culled from the world wide web by our change agents. They do the surfing, so you don't have to!
Getting Over OTCs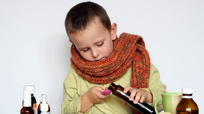 With cold and flu season on the horizon, drug companies have finally admitted that children under 4 should not be given over-the-counter cough and cold medicines. The announcement comes about a week after the FDA found little evidence that the remedies even work on kids that young, but decided against a ban out of fear that parents would then give their little ones adult medicines instead.

Pediatricians have been calling for a ban on marketing cough and cold remedies for children under 6. While that isn't happening anytime soon (the FDA is still investigating and it could take up to a year for their final verdict), the drug companies have at least agreed to add a warning to their products that parents should not give children antihistamines to make them sleepy (as sad as it is, we do know parents who have resorted to this tactic.)

Bad reactions to OTC cough and cold medicines send some 7,000 children to hospital emergency rooms each year, with symptoms including hives, drowsiness, and unsteady walking. Many kids overdose by taking medicines when their parents aren't looking.

Share your tips to weathering the cold and flu season, and let us know how you keep your kids comfortable and healthy without OTCs.
Posted: 10/7/08