News
The latest news on this change — carefully culled from the world wide web by our change agents. They do the surfing, so you don't have to!
The E-Cards We're Dealt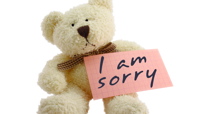 You've got mail! Hooray, ten new messages. Three of them are spam, three of them are Everyday Change emails (Yay!), a couple Facebook updates, a note from your mom, and oh hey, what's that little electronic greeting? This week news sites like US News and World Report, The Washington Post and Los Angeles Times have been abuzz about a web site called inSpot that allows users to send anonymous electronic greetings informing the recipients that they may have been exposed to infections like clamydia, ghonorhea or even HIV.

The e-cards bear messages like, "No one wants to be the bearer of bad news...but I got diagnosed with STDs (You might have one, too)," or "It's not what you brought to the party—it's what you left with."

They don't sound quite as fun as the other e-cards you might receive with little dancing bears singing happy birthday, but for some people it might be better to receive one of these trite cards than to have an awkward conversation with a one-night stand.

If one of your ex-lovers were to tell you that they have an STD, how would you prefer them to do it? Would you be down with an electronic greeting?
Posted: 10/23/08