News
The latest news on this change — carefully culled from the world wide web by our change agents. They do the surfing, so you don't have to!
Value Meals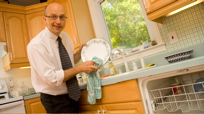 In his piece in the New York Times about having an almost empty nest, Michael Winerip writes about his discovering his cooking habits have changed drastically since his twin sons have left for college, leaving him only responsible for his wife and 14-year-old daughter. Instead of his daily $50 trips to the market, he now spends only $20 a few times a week.

"I can't get used to cooking for just three — I make too much pasta, too many chicken breasts," he writes. "We've gone from using up a loaf of sandwich bread in two days to trying to figure how much of the loaf to freeze so it won't spoil."

Along these same lines, Michael Byrnes, a columnist from Ontario Canada's The Daily Press newspaper devoted his entire column to complaining about how difficult it is to shop for only two people. He says the only available jar of sauerkraut in his local market was so large he "might even have to leave it to somebody in [his] will."

Have you altered your shopping habits since you've downsized your crew? If you've got any tips on how to cook for two instead of a whole family, share them with us!
Posted: 9/19/08