News
The latest news on this change — carefully culled from the world wide web by our change agents. They do the surfing, so you don't have to!
Monkey Business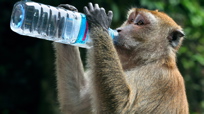 So, you've gotten rid of your messy, hormone-ridden, screeching, hairy teenager and you're looking for the perfect replacement. We've got good news for you; you can keep all those adjectives and simply change the noun by adopting your very own monkid.
Across the country, lonely souls are adopting capuchin monkeys and treating them just like a new member of the family. They allow them to sit at the dinner table, dress them in embarrassing outfits and get frustrated when they refuse to do the dishes.

People like empty nester Lisa Johnson say they would be miserable without their surrogate primate children. Her monkid, Jessie, wears handmade clothing, eats beef jerkey and French fries and sleeps in the same bed as her and her husband.

As is the case with all children, monkids don't come without risks. Angelle Sampey learned this the hard way when she tried to take some peanuts away from her seven-year-old monkid, Andy. "I walked into the room and he just, he bit me everywhere he could bite me. He ripped my elbow open, right across my wrist, on my hand, the back of my knee," Sampey told ABC News. "And it all happened within, like, three seconds. I got out of the room as fast as I could. But I got out of the room bleeding all over the place."

Are you going to be looking for a primate replacement, or are you still waiting for your teenager's room to air out before you invite in any new inhabitants?
Posted: 7/1/08