News
The latest news on this change — carefully culled from the world wide web by our change agents. They do the surfing, so you don't have to!
Political Parenting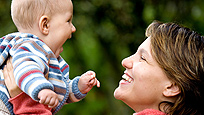 Republicans must love this! Rep. Linda Sanchez is set to become the first-ever "unwed mom" to serve in Congress (and the eighth woman to give birth while in office). And the California Democrat is more than proud to hold that title.

In fact, while she and her boyfriend are "unofficially engaged," (aside: can someone tell us what that means?) Sanchez has made it clear that she won't be rushed into a wedding just to please voters or her fellow politicians. After all, she wants the big white wedding, which takes time to plan. And she's a little busy right now preparing for baby and working in Congress!

Oh, and don't even think about comparing her to Bristol Palin. "I'm not a high school kid, it wasn't an accident, I'm financially stable, in a committed relationship," she told the Washington Post. "All the reasons for worrying about bringing a child into the world don't exist here." She's due in May.

We think it's great that Sanchez is fulfilling her dream of becoming a mom—and not worrying what any naysayers might think. But what do you think?
Posted: 11/24/08