News
The latest news on this change — carefully culled from the world wide web by our change agents. They do the surfing, so you don't have to!
See Stars Dancing with Wozniak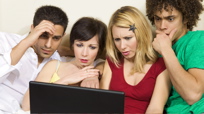 OMFreakingG. We mean REAL stars if you're dancing with him and he steps on your foot.

You've heard the phrase "to the manor born"? Uh, remember, the Woz is more to the GARAGE born than the ballroom. After all, that's where those Apples came from, right?

Yikes! We're almost afraid to watch this little bit of terpsichorean magic.

Here's the, uh, skinny: His competitors include an Olympic gymnast, rapper Li'l Kim—Li'l Kim!?!?!?—Denise Richards, and Belinda Carlisle. (At least, Belinda's picture was believable on those water skies, true or not.) All light on their feet no doubt.

So, how's the Woz gonna do it? Seriously! Where's the center of gravity on this guy? On the couch? We hope it's not his partner's foot.

Ouch!

Read at your own risk.
Posted: 2/11/09