News
The latest news on this change — carefully culled from the world wide web by our change agents. They do the surfing, so you don't have to!
Could You Give Up Technology?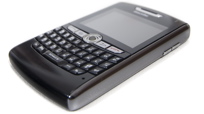 Ah, the Presidency. Unfettered access to information, all at the click of a ...
Hey! Where are you going with my Blackberry?
That's right. It seems our commander in chief is going to have to surrender his right to bear a PDA come January. Since the dawn of the information age, Presidents have had to surrender the freedom to text or e-mail, mostly because of security concerns that their every word could be used against them.

Obama, of course, is rarely seen without his Blackberry, and wants to have a laptop in the Oval Office. Do we think he'll get his wish? And of course, the real question is...Mac or PC?
[NYT]
Posted: 11/17/08