News
The latest news on this change — carefully culled from the world wide web by our change agents. They do the surfing, so you don't have to!
Industry Flare-Up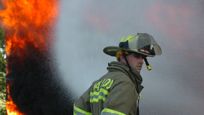 Benjamin Franklin once said that "in this world nothing can be said to be certain, except death and taxes." Well, if Franklin lived in Southern California, he could have added wildfires to that list. The natural disaster comes just as surely as The Academy Awards every year, and as the population grows so do the damages.

Insurance companies have been feeling the burn, so to speak, and are making it increasingly difficult for homeowners to be insured. While companies like Farmer's have raised their rates as much as 6.9%, industry giant Allstate has stopped selling new policies altogether.

The recent crunch is even hitting people who work in the insurance industry. Derek Ross is an independent insurance contractor. "I'm unable to get insurance from the majority of insurers I represent," Ross, who lives in a hilly Los Angeles suburb, told the Wall Street Journal.

While in some instances insurers have dropped customers outright, many are asking the homeowners to take greater steps to fully protect their homes, such as clearing the brush within a 1,500-foot radius around the home and installing fire-resistant roofing. Whether you take those steps for insurance purposes or not, you'll be rewarded for your preparedness when and if fire does come your way. If you want to make sure you're doing all you can to prepare your home for wildfire season, check out online resources like Firewise.org, a multi-organizational effort to help communities take responsibility for fire preparedness.
Tell us what steps you've taken to spare your home from fire, or any other natural disaster. Have you found insurance difficult to obtain?
Posted: 8/15/08